Urban Design and Public Health – What is Blue Space?
"Urbanization is a major public health challenge in the 21st century. For the first time in human history, the majority of the world's population lives in cities. By 2030, it is estimated that about 60% of the world's population will be urban dwellers, projected to rise to about 70% by 2050. Urbanization represents a great opportunity to improve people's health, but also a complex challenge, especially in places where urbanization is outpacing the development of infrastructure, services, and other resources required to sufficiently meet the needs of the residents."  — WHO Centre for Health Development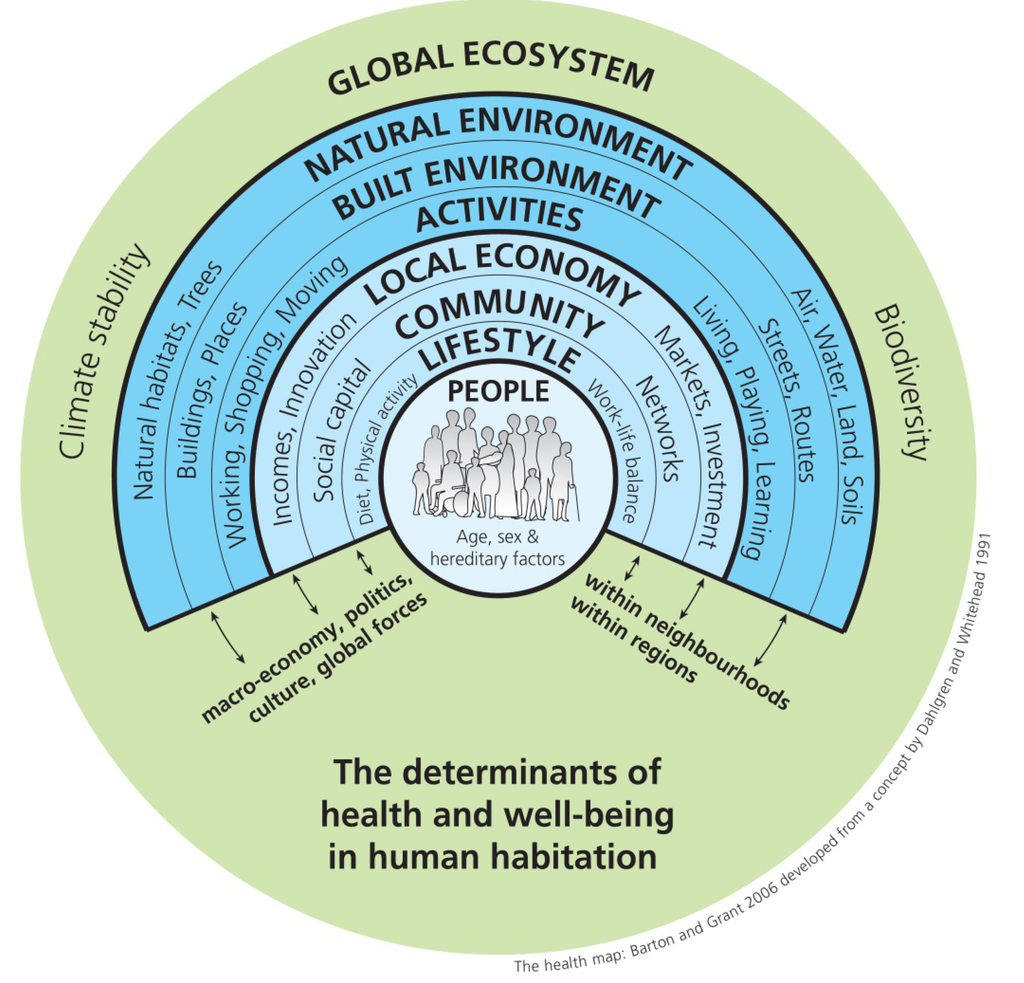 Figure 1: Socio-ecological Model of Health (Barton et al., 2006)
Built Environment Health and Well-being
Public health is not just a medical issue, the effects of socioeconomic, cultural, environmental condition make public health a social issue.  The bond between public health and urban planning are unbreakable.  Urban design plays a role in creating healthy and sustainable cities.
The WHO Healthy Cities Project Office has put forward a framework for stakeholders in designing and developing cities.  A list of principles for the process of creating and sustaining healthy cities are listed below.
Figure 2: Healthy Urban Planning Principles by WHO Healthy Cities Project (WHO Healthy Cities Project Office, 1995; WHO Regional Office for Europe, 1997)
"Health is a state of complete physical, mental and social wellbeing and not merely the absence of disease or infirmity. The enjoyment of the highest attainable standard of health is one of the fundamental rights of every human being without distinction of race, religion, political belief or economic and social condition." — definition of health by the Constitution of WHO (WHO, 1994)
What is Blue Space?
Nowadays we can see many law and regulations on protecting green spaces.  It is a must to include green space in all urban planning and design projects, but, what about blue space?
Blue space as an urban design term stands for visible water.  Harbour front parks, rivers, ponds, lakes, ports, canals, fountains, etc. are all counted as blue spaces.  It is an important physical and aesthetic element of landscape design.  In contemporary cities, it is often to see historical rivers being polluted because of industrial wastes.  Some streams are disappeared and waterfront zones are built artificially because of infrastructure.
Blue spaces are a valuable genre of public space.  With good design and management, they can be attractive features of cities.    Blue spaces are crucial in achieving sustainable urban development.
Value of green and blue space: (Smith, 2010)
Natural cooling to mitigate the urban 'heat island'
Space for sustainable urban drainage/water storage to absorb excess rainfall
Creation of natural areas for recreation, exercise, social meeting
Urban gardening and allotments
First exposure of urban dwellers to biodiversity
Unused land can create green corridors such as disused railway lines
Vegetation to reduce the effects of air pollution, store carbon, increase permeability
Habitat preservation and sustainable ecosystems
Places for species to migrate and adapt to the effects of climate change
Healthier, happier people
Figure 4: Four Pillars of Sustainable Development for Urban Blue Space (Wessells, 2014)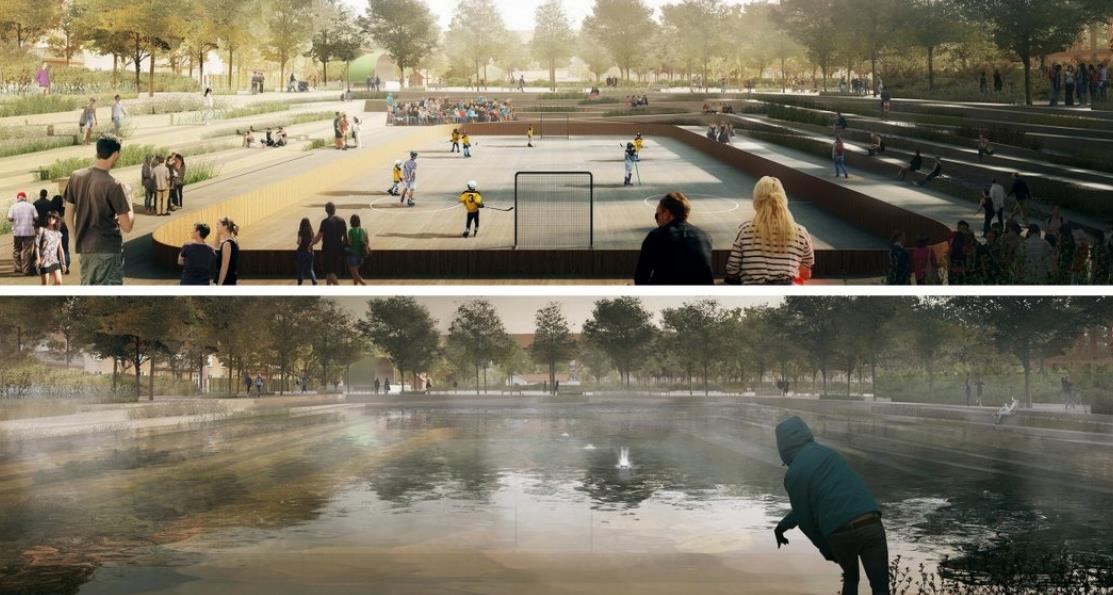 Environmental Psychology
It is also important to consider urban design and public health in terms of environmental psychology.  There are lots of research on advantages of living with green landscape view.  The view 'helps us restock our mental energy after a day of knowledge work and keep our stress levels in check' (Augustin, 2010)
Researchers see blue space having a similar function as green space.  They found built space with water landscape view is preferred as in the way how those with green landscape view.  They suggest built environment near water should value higher.  (White, et al., 2010)
European Centre for Environment & Human Health did an experiment on how people would feel about green, grey and blue spaces.  People taking the experiment were given a set of 120 images each, containing photos of green spaces, blue spaces and built structures (grey).  People then have to answer questions like "That is a place which is away from everyday demands and where I would be able to relax and think about what interests me." By choosing the most suitable image they think.  Result is presented as shown below.
Figure 6: Result of Experiment (Wheeler, no date)
Figure 7: Environments Ranked from Least to Most Preferred (White, et al., 2010)
Conclusion
The guidelines are not to provide all the answers on how to build healthy cities.  Urban planning and design is not all about physical spaces, but taking the needs of people and communities into account can make up the whole of communities.
"A city is like a living human organism.  One cannot be healthy, if the liver is sick." (Duhl, 1986)
---
References
Augustin, S. (2010) Living near green spaces and blue spaces. [Online] Available at: https://www.psychologytoday.com/blog/people-places-and-things/201009/living-near-green-spaces-and-blue-spaces
Blackshaw, N. (2012) Why public health and town planning share an unbreakable bond. [Online] Available at: https://www.theguardian.com/healthcare-network/2012/jan/05/public-health-town-planning-bond
Department for Communities and Local Government (2014) Guidance: Health and wellbeing. [Online] Available at: https://www.gov.uk/guidance/health-and-wellbeing
Karl, L. (2016) Water please! Rethinking urban blue spaces after COP21. [Online] Available at: http://www.gmfus.org/blog/2016/04/05/water-please-rethinking-urban-blue-spaces-after-cop21
Smith, D. (2010) Green and Blue Space Adaptation in Urban Areas and Eco Towns (GRaBS). [Online] Available at: http://ec.europa.eu/environment/nature/ecosystems/docs/6_DS_GI_191110.pdf
Völker, S., et al. (2011) 'The impact of blue space on human health and well-being – Salutogenetic health effects of inland surface waters: A review', International Journal of Hygiene and Environmental Health, 214(6), pp. 449–460. [Online] Available at: http://www.tlu.ee/~arro/Happy%20Space%20EKA%202014/blue%20space,%20health%20and%20wellbeing.pdf
Wessells, A. (2014) 'Urban blue space and "The project of the Century": Doing justice on the Seattle waterfront and for local residents', Buildings, 4(4), pp. 764–784. [Online] Available at: www.mdpi.com/2075-5309/4/4/764/pdf
Wheeler, B. (no date) Beyond Greenspace Research: Beaches, Biodiversity and Bats. [Online] Available at: http://www2.uwe.ac.uk/faculties/FET/Research/WHO/tools%20resources/BenWheeler_BeyondGreenspaceResearchBeachesBiodiversityAndBats.pdf
White, M., et al. (2010) "Blue Space: The importance of water for preferences, affect and restorativeness ratings of natural and built scenes". Journal of Environmental Psychology. 30(4):482-493. [Online] Available at: https://www.researchgate.net/publication/222981385_Blue_Space_The_importance_of_water_for_preferences_affect_and_restorativeness_ratings_of_natural_and_built_scenes
WHO (2014) Healthy urban planning. [Online] Available at: http://www.who.int/kobe_centre/interventions/urban_planning/en/
WHO Europe (2003) Healthy Urban Planning in Practice: experience of European Cities. [Online] Available at: http://www.euro.who.int/__data/assets/pdf_file/0009/101610/E67843.pdf?ua=1
WHO Europe (1999) Healthy Cities and the City Planning Process: A Background Document on Links Between Health and Urban Planning. [Online] Available at: http://www.euro.who.int/__data/assets/pdf_file/0009/101610/E67843.pdf?ua=1
Image Sources
Top Photo: New Water City Master Plan by Koen Olthuis Waterstudio (Olthuis, 2010) http://assets.inhabitat.com/wp-content/blogs.dir/1/files/2011/05/new-water-master-plan.jpg
Figure 1: Socio-ecological model of health (Barton et al., 2006) http://www.mdpi.com/ijerph/ijerph-11-01005/article_deploy/html/images/ijerph-11-01005-g004-1024.png
Figure 2: Healthy Urban Planning Principles by WHO Healthy Cities Project (WHO Healthy Cities Project Office, 1995; WHO Regional Office for Europe, 1997) [Table done by author. Information taken from: http://www.euro.who.int/__data/assets/pdf_file/0009/101610/E67843.pdf?ua=1]
Figure 3: A canal in Amsterdam (Mikestravelguide, 2012) http://mikestravelguide.com/wp-content/uploads/2012/09/Amsterdam-canal2.jpg
Figure 4: Four pillars of sustainable development for urban blue space (Wessells, 2014) www.mdpi.com/2075-5309/4/4/764/pdf
Figure 5: Enghaveparken Floodable Park (Cowi, Tredje Natur and Platant, 2016) http://www.gmfus.org/sites/default/files/laurablog1.jpg
Figure 6: Result of Experiment (Wheeler, no date) http://www2.uwe.ac.uk/faculties/FET/Research/WHO/tools%20resources/BenWheeler_BeyondGreenspaceResearchBeachesBiodiversityAndBats.pdf
Figure 7: Environments ranked from least to most preferred (White, et al., 2010) [Taken from: Wheeler B. (no date) Beyond Greenspace Research: Beaches, Biodiversity and Bats.] http://www2.uwe.ac.uk/faculties/FET/Research/WHO/tools%20resources/BenWheeler_BeyondGreenspaceResearchBeachesBiodiversityAndBats.pdf